We offer pickup and drop-off service for our members.
The Solution to your Doggy Dilemma
Do you and your dog love Doglando, but find the drive a little burdensome? If so, then it's time to introduce your best friend to the Dog Bus!
The Dog Bus is a safe, clean and friendly way for dogs to travel to and from Doglando. For just a nominal fee of $10 each way, your dog can be picked up by an experienced driver and transported to Doglando for a day of fun, companionship and exercise.
When the day is at an end, your pup will be safely transported back to your home. Of course, one-way service is available too if you want to drop off or pick up your dog while leaving the other transportation to us.
Currently, Doglando's Dog Bus service is available Monday through Friday in the Avalon Park area. In Baldwin Park, you can take advantage of this service on Tuesdays and Thursdays.
Keep in mind that at Doglando, we're pretty flexible, especially when it comes to improving the lifestyle of dogs in the area. If we do not currently offer Dog Bus services in your neighborhood, then ask us if we can make a special arrangement to pick up and drop off your dog.
Dog Bus Service
Pick up and drop off services are available for $10 each way, per dog.
NOTE: Doglando's bus service is available for well-behaved dogs over 6 months old who have completed our Level 1 training program, and have been a member of Doglando for at least 60 days. Speak with a Doglando team member for details and availability.
We currently serve these areas:
Avalon Park: Monday – Friday
Baldwin Park: Tuesdays & Thursdays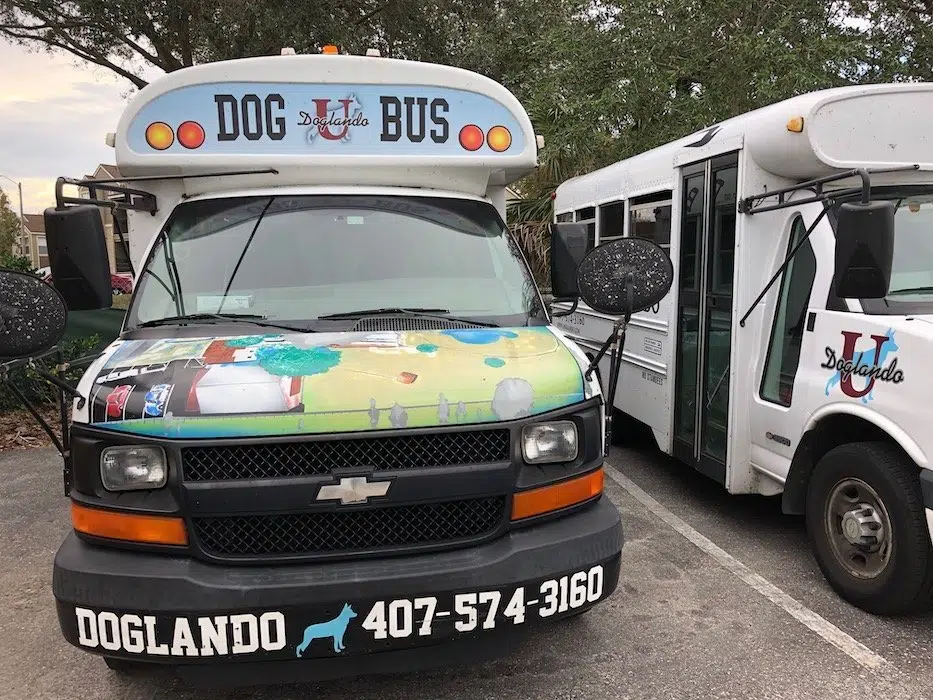 Are You An Overwhelmed Dog Parent?
Your life is pretty hectic. Between your job and taking care of your kids, both the two-legged and four-legged varieties, your time is at a premium. Nonetheless, you know how much your dog loves spending the day at Doglando.
Using the Dog Bus service is the best way to ensure that your beloved pup gets the enrichment and attention that he deserves even when you have to be gone all day. Let us battle the traffic for you so that you can focus on other things and then be reunited with a tired but contented dog when you get home.
The Dog Bus is completely safe. Each seat is equipped with a dog-friendly seat belt, and we even have a kennel for those pups that don't fit in the seats very well or just aren't comfortable using a bus seat. Thanks to air conditioning, you can trust that your dog is comfortable and happy during her time spent on the Dog Bus no matter how hot and humid it gets outdoors.
The Dog Bus is thoroughly cleaned after each trip to ensure that all of the dogs who visit Doglando have a safe adventure. You can trust us to treat your pup like royalty.
Ready to join our family?
Ready to join our family?
12276 E Colonial Drive
Orlando, FL 32826
(407) 574-3160 
Ⓒ 2023 Doglando. All rights reserved.
Children & Youth Programs