We offer an array of services that you may add on to our Enrichment program:
Does traffic have you beat?  We can't clear traffic, but maybe we can help.  Our Dog Bus can help save you time and gas by picking your dog up from your home in the morning, and delivering them safe and sound at the end of the day.
If you are in one of our pickup areas, please consider taking advantage of this service!  If you are not located in one of our current pickup areas, please let us know you are interested, and we will see what we can do!
DOG Bus Service
Pick up and drop off services are available for $8 each way, per dog.
We currently serve these areas:
Avalon Park: Monday – Friday
Baldwin Park: Tuesdays & Thursdays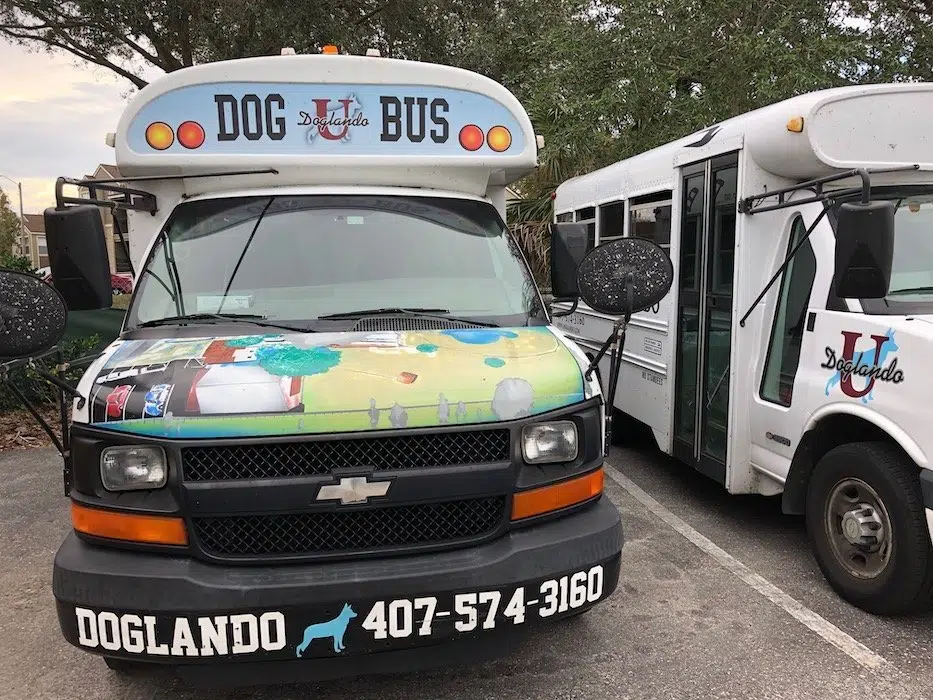 Being a Doglando dog means getting dirty. From dirt and grass, to sand, water and mud, our dogs know how to get down and dirty and embrace their wild side.  However, we know that isn't exactly what you want to take home at the end of the day!
All of our dogs enjoy a "blow off" service at the end of the day before going home.  We use an air blower to blow any dirt, grass, sticks and sand from your dog's coat, drying them off at the same time.
We also offer weekly baths strictly to our Doglando members.  The dogs are bathed the same day each week and enjoy playing in the morning before their relaxing bath in the afternoon.  Our weekly bath service includes:
Shampooing
Conditioning
Brush Out
Ear Cleaning
Nail Clipping and Sanding (if necessary)
Blow Dry (no heat)
In keeping with the Doglando philosophy for enriching dogs' lives, our grooming is not an automated system. Each dog is individually worked with to ensure the groom is done in the most humane way possible. We teach our dogs how to get in and out of the tub on their own, to turn on command in the tub so we don't have to pull them, and to offer us their paws for trimming.  All day in our Enrichment program we work with your dog to practice these behaviors in a fun way, so that when it is time for a bath your dog is more confident in what to do.
Yes, this takes more time than just rushing through a bath. But, we believe in investing in our dogs, and in our members. Which is why we ONLY offer our grooming service to Doglando members.
Swimming is an integral part of offering enrichment. Swimming teaches dogs to learn to carry their body and weight in a different way than when on land. It activates so many other muscles that become lame when only provided with exercise on land.
In addition, it is an excellent skill to teach all dogs. Learning how to swim and how to enter and exit a body of water is quite a significant skill to teach dogs (especially Floridan canines).
At Doglando, we believe swimming is super-important because it:
helps strengthen our trust with the dog
assists the dog in regulating his or her internal temperatures
is soft on the dog's joints
improves muscle tone
Most dogs love water when given the opportunity. Swim time can be purchased as an additional service to our Enrichment program for only $5 for 15 -20 minutes of swim time.
We also offer a 4-week Swimming Foundations class for puppies, 8 weeks to 8 months old, who are enrolled in our Potty Training, Puppy Preschool, and Pre-K9 classes.
In all environments, change is a constant. In a true learning environment, change is embraced to create rich learning opportunities. Much like children, dogs too experience boredom. Also much like children, dogs need "living" environments where they are challenged in a positive way.
At Doglando, we are continuously assessing and evaluating the effectiveness of our work, and we are steadfast in creating the most enriching experiences for each dog as an individual.
How does Enrichment Reboot work?
Think of an Enrichment Reboot as a supplement to Enrichment. For 6 weeks your dog will be in our Canine Skill Building program (this can be in addition to Enrichment, or in lieu of it).
Who is a candidate for Enrichment Reboot?
Our Enrichment Reboot program is for dogs who are enrolled in Enrichment.
Dogs have evolved from an era where "work" defined their purpose, to "companionship" which has broken all barriers of structure, purpose, and dignity. Many dogs thrive when given the opportunity to work in the company of a human. This is completely different than giving them the opportunity to be free to create their own experiences.
In Canine Skill Building, the experience is designed by the trainer, and together the trainer and dog work as a team to accomplish a task. The key required elements of this kind of a learning structure include: focus, attention, and engagement with the trainer, regardless of the conditions in the environment.
Many dogs NEED this. It's something they crave. As a result, they are happier, content, and enrichment becomes fulfilling. 
Dogs who need it most are those who:
thrive with closer human connections (smaller groups of dogs)
need clear direction
need guidance in a group
love learning
love being stimulated
love solving problems
are highly in-tune with, and aware of, changes in the environment (sounds and sights especially)
How will Enrichment Reboot benefit me and my dog?
Variety is the spice of happiness.
"If a drop of water falls on the surface of the sea just over the flower-like disc of a sea anemone, the whole animal contracts vigorously. If, then, a second drop falls within a few minutes of the first, there is less contraction, and finally, on the third or fourth drop, the response disappears altogether" (Jennings, 1906).
The way in which our dogs live today, unfortunately, create more patterns of habituation than stimulation. At Doglando, we are conscious of that, and as a result it is an ongoing assessment to assure our dogs don't fall into habituation unless it is of behavioral benefit to them.
Exponential growth occurs by properly supporting each dog in his or her development and learning.
Wellness can only be observed when we support each dog as an individual and help them meet their needs. Deprivation occurs when their needs are not met.
As a result of combining Enrichment Reboot and Enrichment, you will notice your dog will:
transfer learned behaviors to your home environment
become trusted with more space and freedom
engage with you much faster (eager to cooperate)
create an internal balance between play and rest
the Benefits to the dog
smaller groups
individual engagement
high-touch
refresher in skills
field trips
ability to exercise their true role of influencing other dogs in Canine Skill Building to make positive choices
new environment
applied learning
regenerate new neural pathways
change of speed
comes back into enrichment with a deeper desire of connection
The benefits 
to you
refresher of obedience
learning skills that can be applied to your home and environment
a happy dog who is getting exposed to a variety of experiences
First and foremost, all of our interactions with your dog are based on having a relationship with your dog.
Doglando's Definition
Relationship
noun
The number of positive interactions over a period of time.
Doglando is your dog's "home away from home". We want your dog to feel safe, comfortable, and 100% cared for when with us. To do this, we work hard to ensure that we have a deep and meaningful relationship with every dog in our care.
Our experiences are designed to promote proximity, engagement, and bonding. We are not a daycare, we are not a kennel, pet resort, nor a boarding facility.
To protect our dogs' total wellness, we only offer overnight stays for the dogs enrolled in our Enrichment program, because we know your dog will be safe, happy, and feel at home to be with us.
Every dog's mental, emotional, physical, nutritional, and intuitive health is of utmost importance to us, and we will remain steadfast in our commitment to provide for every dog as though they are our own.
Overnight Stays are available to current Enrichment Members only. We offer on-campus boarding and take-home boarding with our Play Professors.
Ready to join our family?
Tell us about your dog and we'll recommend our best training programs for you!
12276 E Colonial Drive
Orlando, FL 32826
(407) 574-3160